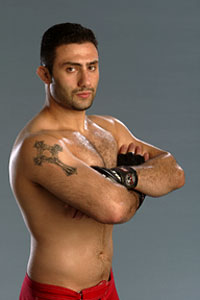 MMAWeekly with the scoop:
UFC welterweight Karo Parisyan was suspended on Tuesday by the Nevada State Athletic Commission for a positive drug test arising from his fight with Dong Hyun Kim at UFC 94. Three Schedule II drugs – painkillers oxymorphone, hydromorphone, and hydrocodone – were found in his system following the fight.


As a result of the Commission's decision Parisyan is suspended from competition for nine months. He is also fined 40 percent of his $80,000 fight purse ($40,000 to show/$40,000 to win), totaling $32,000, which is paid to the Athletic Commission.
Karo also had his 'win' turned into a "No Contest" by the commission.  So now Dong Kyun Kim goes back to being undefeated in his career.  Talk about triple whammy?  You lose 32G's, can't compete for 9 months, AND get the W taken off your career record?  That's steep right there.  Do you think the commission was too harsh, or not harsh enough?  Sound off.