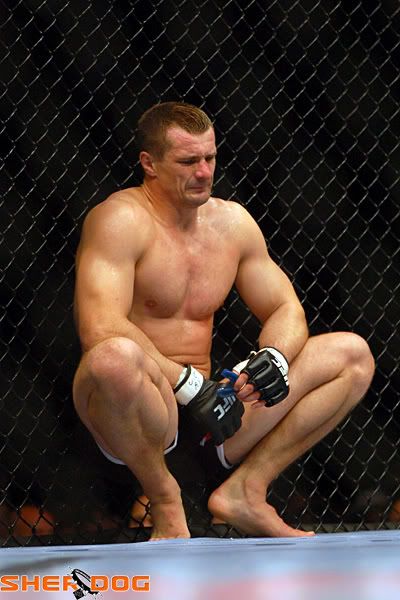 Cro Cop is alive and speaks about his future:
"I'm in talks with the Japanese,which of course is natural, since they treated me so well over the years. And its not a secret anymore that the UFC have contacted me. I'm also in talks with another US organization."
Cro Cop underwent successful surgery on his knees a little over a month ago, and is now faced with a big decision on which promotion to sign with next.  If you are a regular reader you already know that I think Cro Cop is done as a fighter.  Although, I'd like to see him re-gain his form from his glory days.  So he's in talks with the UFC, and the other organization is probably Affliction.  I don't think he'll sign with the Japanese again.  I don't think Strikeforce would be poning up that type of money for him either, although they could put together a re-match with Alistair Overeem.  However, it's clear to me that Mirko does NOT want that fight.  Let's take a look at some of the possible matchups for him in both organizations: 
Affliction 
Re-match with Fedor Emelianenko
Re Re Re Re-match with Josh Barnett...lol
Tim Sylvia
Andrei Arlovski(although he'll be boxing supposedly)
UFC
Randy Couture
Re-match with Cheick Kongo(Cro Cop has stated he wants this one)
Re-match with Gabriel Gonzaga
Re-match with Antonio Rodrigo Nogueira
Brock Lesnar
Frank Mir
Cain Velasquez
Shane Carwin
I'm sure I'm having a brain fart and forgetting a couple of fighters or something.  Chime in and let me know where you would prefer him to go, and also feel free to tell me why you don't think he's done as a fighter.