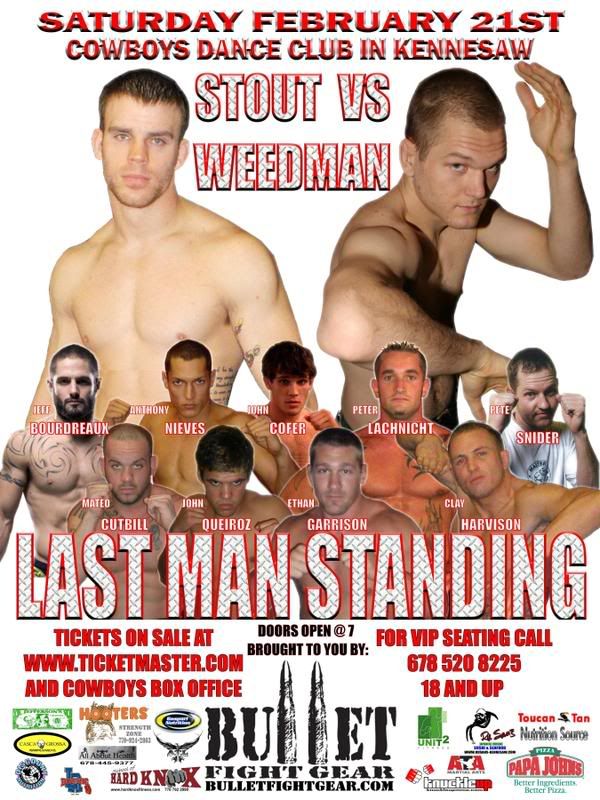 If you live in the southeastern region of the United States, you'd know there's a pretty big fight on the horizon.  A fight that's been in the works for a while now, and it's finally coming to fruition. Brent Weedman will be fighting Tim Stout in the main event of the Bullet FightGear "Last Man Standing" event on February 21st in Kennesaw, GA.  MMA4Real was able to catch up with the American Fight League welterweight champion in Brent Weedman.  Brent speaks on the magnitude of this fight, training in Brazil, and what's next on the horizon.  Let's get right to it:
Kelvin Hunt-Brent, this fight has been in the works for well over a year. How did it feel to finally get the contracts signed and your training camp underway?
Brent Weedman-I have to tell you it feels pretty great. Tim and I make such a good style match up. I want tough opponents and tough fights, and they don't come any tougher than Tim. We've tried to make it work before, but it never came to fruition. So when everything fell into place I was more than ready to get to work!
Kelvin Hunt-This is a pretty big fight for southeastern MMA fans. Even the UG is pumped for this fight. Why should southeastern MMA fans come out to see not just this fight, but this card?
Brent Weedman-I have to agree that this is a big fight for this region. Tim and I both have positive reputations in this area, and will make for some big fireworks. If I can keep it in the family then I would have to say another reason to come see the fights is a training partner of mine named Garrett Watson. He's a 155 amateur who will make you reconsider everything about your own workout routine. This guy is a complete stud, and he tends to scare off opponents at the weigh ins when he takes off his shirt. Plus he's a very powerful and exciting fighter to watch. Keep your eyes peeled.
Kelvin Hunt-What have you been working on in your training camp to get ready for this fight?
Brent Weedman-We've been expanding on our bread and butter. Loads of conditioning, because I KNOW Tim is training hard! Keeping everything sharp on the feet and on the ground, not neglecting anything. Plus we are preparing for Tim's strength. Tim is very VERY strong, and that has to be a part of our gameplan.

Kelvin Hunt-You recently took a trip down to Brazil to do some training. Elaborate on what you learned from the trip and do you think you'll be going back?
Brent Weedman-The trip was a big help. It actually started raining heavily about 3 days into the trip, so literally all I had to do was train. The camp I was with had a number of strong fighters including Raphael dos Anjos who was preparing for his fight with Tyson Griffen. The guys were all very tough and very strong, and I gained a lot from their aggressiveness.
Kelvin Hunt-You are currently on a 3 fight winning streak, and 6-1 in your last 7 fights. I know you are not looking past Stout, but what's next for you if you get the win here?
Brent Weedman-Good question. I'm sure my management has something in the plans, but right now it's all Tim. You can't afford to look past somebody like him, and I won't make that mistake. Right now the timeline of my life goes up until the fight, and then nothing. Sunday morning I'll wake up, drink some coffee, sit down to breakfast, and ask my wife and manager "So what do you guys wanna do now?"
Kelvin Hunt-Without giving away too much of your gameplan. How are you going to approach the fight, and what do you think of Tim Stout as a fighter in general?
Brent Weedman-I've said over and over that Tim will be my toughest fight yet, and I'm training as such. Anyone who's seen his fights knows he's an extremely heavy handed fighter with KO power. I've seen a LOT of his fights so I also know he's more than that. And he's a smart guy, I don't think he's going to overlook any aspect of the game. In that way we are in the same frame of mind. My gameplan is the same as all my fights, I have tried to start beating Tim starting the day the fight was signed. I have tried to outwork him at every morning run, every sparring session, and every conditioning session. I know he'll do the same.

Kelvin Hunt-All ten of you wins have been either via TKO or submission. What are your chances of keeping that streak intact?
Brent Weedman-Good question. Tim is my friend, and a grade A opponent, so I won't be so disrespectful as to say "Brent KO in the 2nd!!!!" But knowing our styles I can say this, I'm pretty sure the judges can just grab a drink and enjoy our fight as fans.
Kelvin Hunt-Any parting thoughts or words of wisdom?
Brent Weedman-I really hope that the fans are excited for this fight! I have a lot of fans in Atlanta, and although I understand for THIS fight they'll mostly be cheering for the hometown Tim, I want them to know I'm coming to give them a show.
Thanks to Tim (who's a great guy), Tony (who's a great promoter), and all the gyms and fighters I've had the luck of meeting down there! See you next week!
Brent we at MMA4Real would like to thank you again for taking the time out of your training schedule to speak with us.  I'm sure you and Tim will put on a show for the fans.  Good luck, and we look forward to hearing from you again in the future.  Tickets for this event can be found here, and the doors open at 7pm.