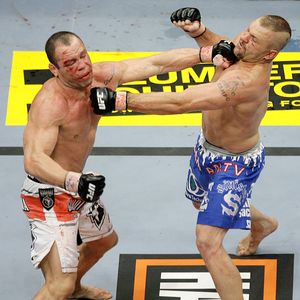 While Saturday played the part of redemption for a few UFC fighters, it ultimately became the beginning of the swan song for a few others. Two of Brazilians finest warriors, Wanderlei Silva and Antonio Rodrigo 'Mintoauro' Nogueira, were demolished in one night. The two former Pride standouts and top ranked fighters looked over matched and basically a shell of their former selves. The dubbed 'Axe Murderer' has been a dismal 1-4 in his last five outings...going 1-2 since joining the UFC. His years of ultra-aggressive, swinging for the fences style has finally shown it's many, many holes. After crushing losses to the bigger Mirko 'Cro Cop' and the gritty Dan Henderson, Silva looked to erase his final days in Pride and regain focus in the UFC. His first test was a huge hurdle in the former Light Heavyweight poster boy, Chuck Liddell. In their epic battle, which was a year or two too late, Silva put on a valiant effort but the counter ability of Chuck and reach advantage proved to be way too effective against Silva's loopy style. A quick knockout of Keith Jardine looked to put 'The Axe Murderer' back on the title hunt, but he would be matched up against long time nemesis and former UFC LHW champ, Quinton 'Rampage' Jackson this Saturday at UFC 92.
While many figured the legal problems and lack of mental focus on Jackson's part would be easy prey for Silva, who had lumped the Memphis native up twice before, but instead it showed the ill effects of a war-torn warrior. Silva never really had the opportunity to land anything effective, outside of a quick knee from a failed take down attempt by Jackson and a few solid leg kicks. After a wild combination, easily guarded by his patient foe, a left hook ended his night and left him out cold for a good duration of the aftermath. While 'Rampage' should be credited for his huge power and on the button counterstrike, I put some of the blame on guys like Kazuyuki Fujita, Mark Hunt, and the aforementioned Mirko 'Cro Cop'. The athletic commission in the states would never allow Brock Lesnar and Anderson Silva to face off in an octagon at their current weights, no matter how much money it would make. The fact that Wand was in there with guys that easily outweighed him by at least 30+ pounds is a testament to his desire to be the best, but also proof that his career would eventually show the effects of these fights. While there should be no shame in a loss to a former champ, the fact that this is the third time in two years that he's been knocked out cold shows that his time on top is coming to a hault. This by no means is a eulogy for Wanderlei Silva's career as I see him being a go to guy for Zuffa for a year or two to come, it is a farewell to the monster that for 4 years was untouchable in the 205 division.
Switch gears to heavyweights, no one in their right mind outside of his wife and/or close friends picked Frank Mir to win Saturday night against Minotauro. And if you did, there was no way in hell you picked him to win via technical knockout. But, if you were like me, and watched with little interest due to feeling the fight was lopsided, you were greatly surprised. From start to finish Big Nog looked...like an amateur. As sad as it is for me to say it, he was flat footed, his only defense was moving backwards which proved to be very ineffective. Gone were his nicely snapping jabs that would back his opponents away and allow for the fighter to get the space needed to maneuver towards take downs or clinches. Gone were the counter strikes that allow him to sting his opponent good enough to follow up with more offense. I'm not sure if he overlooked Mir's standup or merely came in a little overconfident but as I watched him dropped to the mat over and over, the barbs by Mike Goldberg and Joe Rogan put thoughts into my head.
Like Wandy, Nogueira has fought some of the biggest most brutal heavyweights/super heavyweights MMA has seen. From the pile driver he was given by Bob Sapp to the left high kick that stunned him by Mirko 'Cro Cop' on to the brutal high kick that nearly spoiled his UFC welcome by Heath Herring. So many solid blows to the jaw/head will catch up to you. Not to mention getting your head smashed into scrambled eggs by Fedor Emelianenko. Everything Mir said on the Ultimate Fighter 8 about his match with Nog was...truth. Nogueira was slower, had no defense, and showed wear and tear. As I stated, these guys still have mileage and a full tank of gas. Of the two, I feel Nog still has the chance to be a champion again as long as he evaluates his past fights and utilizes a better gameplan in doing so.
Just as many other legends have fallen in the past few years, from Chuck Liddell, to Mirko 'Cro Cop', to Tito Ortiz, I must say these two Brazilian behemoths may soon join the ranks of the 'past-their-prime' fighters. But just think, we have years and years of highlights from the both to keep us occupied as they begin the passing the torch phase of their careers. I'll be back with my thoughts on the 'next' generation fighters that came from UFC 92 soon. As always, this is open to discussion so let me know what you think.